In a bid to inculcate finest intellectual and elites the G H Raisoni University which is situated in Central India's Amravati district is a piece of land engrossed with greenery and accommodates all types of modern day facilities which includes fully Wi-Fi enabled Campus, Digital Libraries, Incubation Center, Students Clubs, Indoor and Outdoor Gym and many other facilities. So, here is a sneak peek into the facilities which make sure that our students are on the receiving end of the finest education, theoretical as well as practical with the amenities we provide.
Green Campus
G H Raisoni University believes in sustainable development. Protection of the environment is equally important. In this subject, we have initiated Greening the campus, where we sweep away wasteful materials and implement conventional resources energies for universities daily power requirements as much as possible.
Unharmful disposal handling, buying environment-friendly supplies and recurring recycling program. University has to work out the time-bound strategies to implement green campus initiatives. These strategies need to be incorporated into the institutional planning and budgeting processes to develop a clean and green campus.
We intend to work with faculties, students, and support staff to implement a self- sustainability culture and make the entire campus environmentally friendly. G H Raisoni Universities The Green Campus Initiatives (GCI) will enable the institutions to develop their campuses as a living laboratory.
Wi-Fi
One of the most important and inevitable phenomena is access to Internet 24X7. Noting this, administration has deployed high speed wireless network connection in the whole campus. After doing the required registration process every student gets access to a high-speed network.
Cafeteria
GHRU well presumes the importance of healthy and nutritious food to nurture bright minded students, for the same reason university has its own food courts and cafeterias. Variety of fresh foods, snacks and drinks prepared by exceptionally skilled professionals in a strict hygienic environment are available on counters to fulfill demands of your taste buds.
Incubation Centre
As an early stage or premature infant's requisite incubator for survival simultaneously premature ideas or entrepreneurs need a nurturing environment to proceed further. With the motto to deliver elite business, personal bestowed with exemplary business skill. GHRU developed Business Incubation Center to support new Ideas and startups.
Personality Development & Grooming
GHRU, Amravati is committed towards training & development, Education and research. It has well qualified trainers and state of art infrastructure and imparts motivated, skilled, technically sound and competent manpower to meet the training needs of students, faculties and corporate. We are committed to create value addition in the lives of students by administering a job linked 4-way module consisting of Language perfection life skills, Employability skills, Personality development and Business skills.The training are aimed at better placement in campus selections, successful industrial projects and internships.Personality Development and career building initiatives are planned throughout the year for students of all courses and streams and administered comprehensive and contemporary training modules, updated with the industry interface, corporate interaction, guest lecturer and panel discussions etc. Programs are aimed at building competitive, successful platforms for learning and self- development with professional attitude.
Transportation
GHRU, Amravati has been providing shuttle bus commuting facility to its students from Badnera Railway Station to university campus back and forth. Well trained and certified driving staff is appointed for handling transportation activities.
ATM
24-hour ATM facility from ICICI Bank at GHRU, Amravati campus is provided. This ATM facility saves time and energy of students to conduct monetary transactions.
Healthcare Facility
At GHRU Amravati, we believe that "Health is Wealth" and therefore provide the best preliminary and basic healthcare facilities to our students. We have a visiting doctor & Physiology counselor facility. At our campus, there is a 24- hour Ambulance facility, readily available for tackling with emergency situations.
Seminar Halls and Auditorium
The seminar halls are well facilitated with ventilation, light and sound system. A comfortable seating arrangement makes it easy for students and teachers alike.
We have a modern and equipped auditorium to fulfil the academic needs of Raisoni educational institute. Most good sound and light system along with proper ventilation makes it more convenient. Numbers of intellectual and cultural events are hosted here to enrich the students.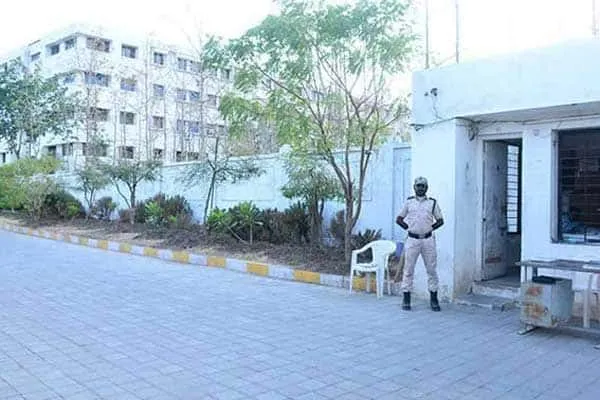 Safety & Security
CCTV Cameras: That ace technology feature which never ceases to provide protection is the camera. Thus, we have made sure to put a Close Circuit TV camera around the campus. We have them in the corridors, in the common areas and in some class rooms. We also have them in the various laboratories, libraries and sports rooms. Hence, you can be assured of a close eye on all the activities of the students with accuracy and precision.
Security Guards: We have a team of meticulous and careful security guards at each of the gates. The students are only made to enter after they show their ID cards to the guards. This further assures the safety of each ward. The security guards are positioned all through campus
Safe Environment: Immense care is taken to provide the educational institute with a particularly safe environment.